World's hottest destinations for vegans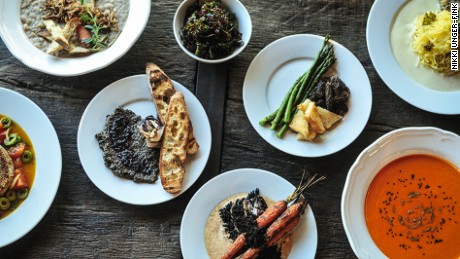 (CNN)Who says cruelty-free eating's a new fad?
Berlin remains Europe's Capital of Vegan, with more exclusively vegan restaurants than any other city on the continent (Prague and Warsaw come in second and third, respectively), according to major vegetarian/vegan website HappyCow.com.
"You don't want to inconvenience others with your dietary restrictions and around here you don't have to," says Sandra Espenhain, a local vegan.
"What's more? Given Berlin's relatively low prices, the costs of vegan foods are comparably low."
New York City, unsurprisingly, offers the most vegan food options in the United States.
"In the last couple of years, fast casual vegan restaurants and food trucks have changed the way people think about vegan food."
NYC also hosts some of the most trendy vegan/vegan-friendly spots in the world.
With a population just shy of four million — America's second largest — the West Coast metropolis was bound to have a variety of dining options for alternative diets.
In fact, some vegans, such as Atlanta-based Bryan Prewitt, say L.A. has the edge over the Big Apple.
"While both have great vegan choices, L.A. blows NYC away," he argues. "NYC has some great spots, but they tend to be pricier, less accessible, and they have substantially less variety.
"Veganism here is a way of life," says Keren Brown, who's lived in Tel Aviv for three years and writes on the city's dining scene.
"Dairy has lost popularity over the last few years in many circles and the healthy Mediterranean lifestyle with its focus on seasonal fruit, vegetables, lentils, chickpeas and other legumes make it a popular lifestyle."
Down in the Aloha State, Honolulu has been taking more advantage of its bountiful access to fresh tropical produce and is fast becoming a vegan hotspot in the Pacific.
"With regular live shows featuring local artists, a decor straight out of the Lower East Side of Manhattan, and vegan options for nearly every menu item it's a must-stop location for all of my island visits," she says.
Thanks to the predominance of Buddhism, Taiwan and its largest city stand for cruelty-free eating due to their culture's esteemed respect for animals.
About 13% of the country, or 1.7 million, does not eat meat, and Taipei has a lion's share of the island's vegan-friendly restaurants and markets.
"Taipei's chefs are re-interpreting traditional Taiwanese cuisine, using fresh local ingredients and adding some international flavor," says Yalun Ho, a native Taiwanese now based in Los Angeles.
Perhaps the most surprising on this list, the controversial city is undergoing a resurgence in both its economy and vegan eating options.
"We're so excited about how the vegan scene in Detroit is growing," Ussery-Boyd says.
"When we first started we weren't sure how vegan soul food would be received but three years later, we're expanding to a second location."
Veganism is on an upward trend in Canada's largest city, with a marked increase in plant-based eateries and shops popping up around town.
In a country where roughly half its citizens have meat-free diets, finding vegan options is certainly no difficult task.
The four-million-strong city of Chennai is India's leader of the veggie-friendly pack, due in part to its location in South India, a region known for using less dairy products and meats in everyday cuisine.
Read more: http://www.cnn.com/2016/06/27/foodanddrink/hot-vegan-destinations/index.html
---